The situation of the Chinese diamond tool grinder
In ultra-precision machining, high-precision diamond tools, especially arc-edged diamond tools, are indispensable to obtain parts with high-precision and ultra-smooth surfaces. However, due to the relatively backward research on the preparation technology and grinding equipment of domestic diamond cutting tools. The sharpness of the edge and the arcdegree of the tip of domestic cutting tools are far behind those of foreign countries.
The design concept of diamond tool grinder
At present, foreign countries impose an embargo on China in this field. In order to break the blockade of foreign countries, Beijing Demina Precision Company carried out detailed design and research on the key components. Which laid a certain theoretical foundation for the research and production of this kind of machine tools in China. The reciprocating linear oscillating mechanism of the grinding wheel frame is the key part of the diamond tool grinder. The reciprocating linear swing mechanism of the grinding wheel frame is designed into three parts: linear reciprocating motion mechanism, swing amplitude adjusting mechanism and swing center adjusting mechanism.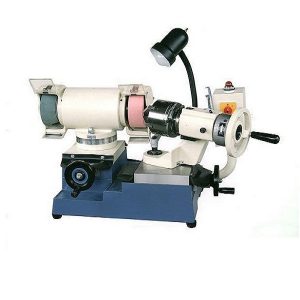 In particular, the linear reciprocating motion mechanism is designed as a spatial RSSP crank slider mechanism, and the parameters of the RSSP mechanism are designed by vector rotation method, and the displacement, velocity and acceleration equations of the reciprocating linear motion of grinding wheel frame are calculated. The swing adjusting mechanism of the grinding wheel frame is designed as a tangent mechanism. The oscillating center position adjusting mechanism is designed as an ingenious empty sleeve mechanism. Which solves the interference problem of the mechanism.
Finally, Pro/E software was used to simulate the movement of the reciprocating linear swing mechanism of the grinding wheel rack. And the displacement, speed and acceleration curves of the slider were obtained. The results were compared with the theoretical calculation results, and the conclusion was consistent. Indicating that both the vector rotation method and the motion simulation method could be used to study the swing mechanism of the grinding wheel rack independently.
China's cutting tool demand is in the rising trend, especially before the high-end market share is not large domestic tool enterprises, the current growth momentum is very fast.
As a result, demand for high-end tool grinders used to make these tools has increased. 
As a tool grinder manufacturer, it is important for us to understand how tool makers can use our machine tools to make the tools they need. Beijing Demina Precision Company has manufactured BT-150 series diamond tool grinder. The customer can scan our web site: www.demina.cn for more information. We welcome you to inquire about the tool grinders.